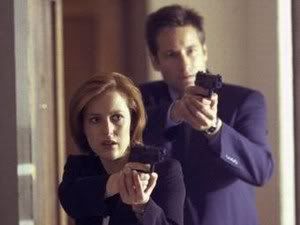 Following the rumors of a sequel that hit the Web on Monday; Century Fox announced that an "X Files" sequel is headed to theaters next summer, with a release date of July 25, 2008 .
David Duchovny and Gillian Anderson will be back to co-star in the untitled project, directed by Chris Carter, who co-wrote the screenplay with Frank Spotnitz.
The plot is top-secret for now and shooting will begin in December in Vancouver.
The studio's news release said only that "the supernatural thriller is a stand-alone story in the tradition of some of the show's most acclaimed and beloved episodes, and takes the always-complicated relationship between Fox Mulder (Duchovny) and Dana Scully (Anderson) in unexpected directions." Hopefully they will be able to capture some of the magic of the early seasons before things got a bit bizzare and stale.
The film's release will come 10 years after "The X Files" feature film, released in June 1998 and directed by Rob Bowman. Chris Carter wrote the screenplay for that movie too.